Welcome to the... 

                   Gino's Hamburgers Tribute Website

.              ..A tribute to a fondly remembered former East Coast regional fast food chain.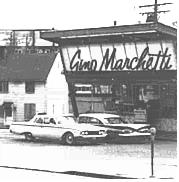 Courtesy:Rick Smith  

  An early Gino's in Towson, MD.  

    Explore the Gino's Hamburgers Website...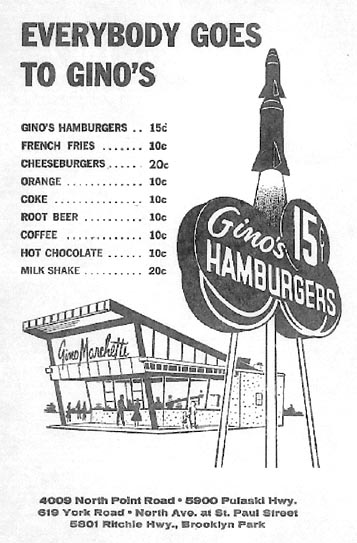 About the Gino's Hamburgers page...

  I created this site as a historical tribute to the former Gino's Hamburger chain for the enjoyment of former customers, employees and anyone interested in fast food history. As an "unoficial" hobby site it is not connected with Mariott, Inc. 

   Images and items on this Website are either from visitors to the site - in which case this source is noted, articles from my personal collection or from items which I purchased on eBay. I gain no monetary profit from the operation of this site or any site I operate, in fact I pay for the use of the server - but the price is well worth being able to help preserve the history of Gino's Hamburgers.

  Thanks for visiting, and I hope your visit here is enjoyable. Please e-mail me with your comments.

Site Founded: 04-28-2000


1969 Gino's ad from Reader's Digest

    Click on image for larger size-

      will open in new window

   (closing this window will return you here)

                                                 Audio Files...

                           "Everybody Goes To Gino's" jingle...

                         Gino's Hamburgers Links...

                          Gino's Is Coming Back!

             Gino's Hamburgers on FaceBook...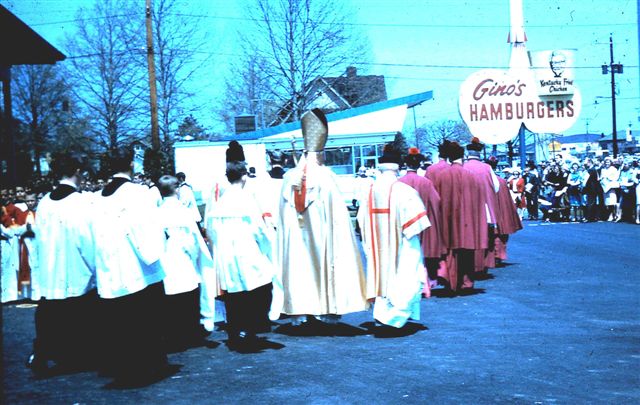 A photo contribution to the site from Bob McCann proves "Everybody Did Go To Gino's"!...

Bob writes...

  I took the greatest photo of a Gino's scene years ago in New Castle, DE.  The restaurant was right next to a Catholic church.  The new church was being consecrated by the bishop and all the diocesan priests.  When I snapped a picture of the procession, I caught the Gino's sign in the background.  The photo looks as though the procession is headed right for Gino's.  "Everybody goes to Gino's." It's really funny.  I just got the 35mm. slide converted to digital.  It would look great on your Gino's Memorial site.  

   It sure does look great! Thanks Bob!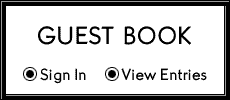 Please take a moment and sign the Guest Book...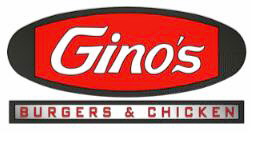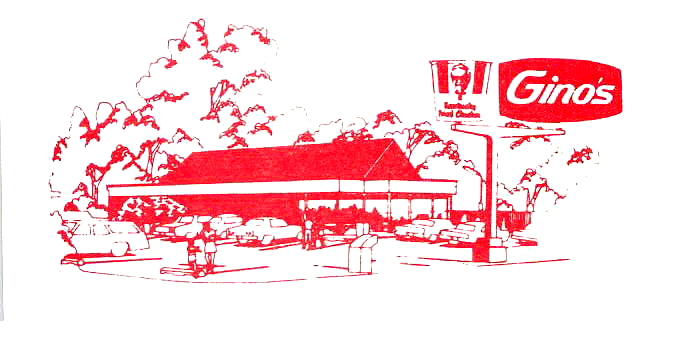 Gino's Burgers and Chicken announced on July 9, 2013 that the 'new' Gino's at 611 West DeKalb Pike Gino's in King of Prussia, Pa. has closed, philly.com has reported.  This location opened on Oct. 25, 2010 and was the first 'new' Gino's. Gino's gave the reason for the closing as 'growing pains'.  With this announcement the company said they plan to open a location to re-enter the Philadelphia market on the Main Line before the end of 2013.  Philly.com also reports that Gino's has awarded 20 franchises to date.

   The King of Prussia store held a Grand Opening celebration on November 14th 2010, offering customers 1970 prices for three hours and having performers singing the classic "Everybody Goes To Gino's" jingle - which played regularly inside.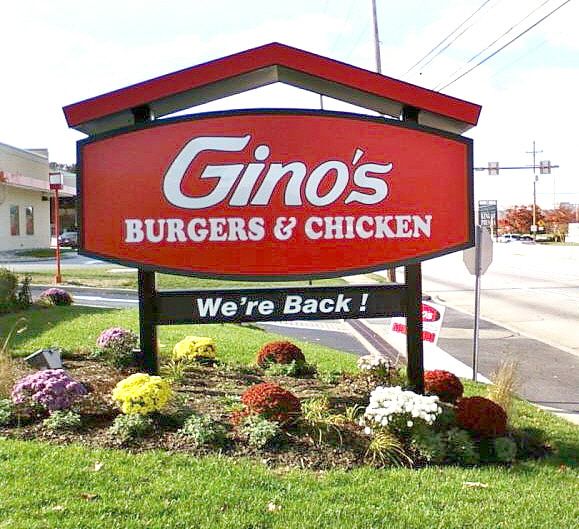 Highway sign at the now closed Gino's Hamburgers and Chicken  in King of Prussia, Pa.

Photo courtesy J. Partington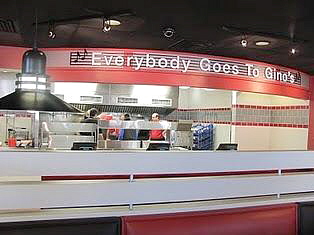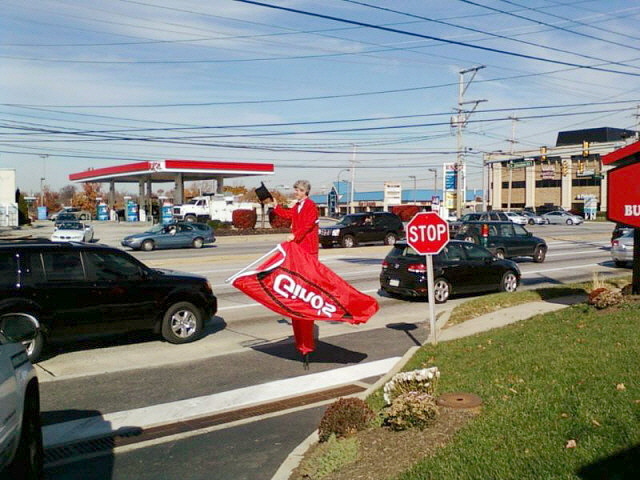 Photo courtesy J. Partington

   A performer on stilts at the Grand Opening of the now closed Gino's Hamburgers and Chicken  in King of Prussia, Pa.

A Gino's Hamburgers
radio spot from WFIL
in Philadelphia         featuring a kid's version of the famous Gino's song...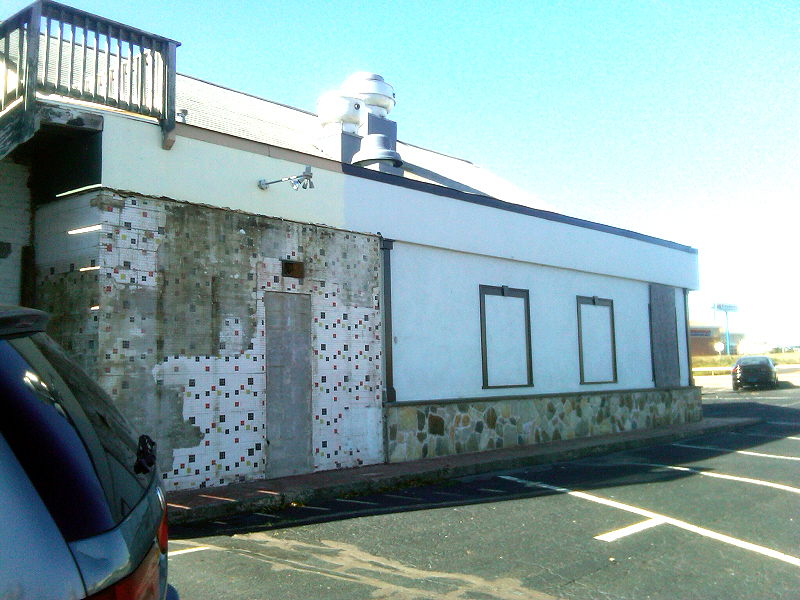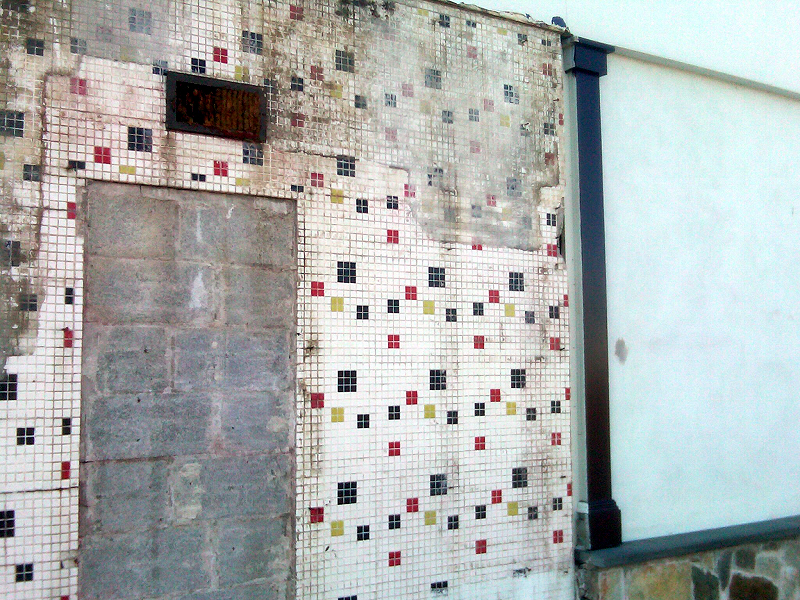 Gino's Burgers and Chicken in King of Prussia, Pa has closed...

  The following two photos were sent in from a visitor to the site. He spotted some of the original exterior wall tiles exposed at the former Levittown, Pa. Gino's ...

The portion of the wall with the stone facade was where the bench would have been.

    A great close up view of the exposed Gino's wall tiles at the former Levittown, Pa. Gino's. These were used on the exteriors of the earlier Gino's locations.

BENSALEM, PA. 'NEW' GINO'S CLOSES

   The Gino's in Bensalem, Pa. closed in late January, 2013. It was opened in 2011 with the Company's first Drive-Through window.  The Company has written on its Facebook page that the location was closed "due to conflicting interest" and that they are focusing on the remaining six locations and looking forward to future openings. Comments posted on Gino's facebook page mention the location not being good and they felt the prices were high.

    A visitor to my page who worked for Gino's in some South Jersey locations visited the Gino's at King of Prussia, Pa. in April, 2013 before it closed and allowed me to use this review he wrote about his experience...

The Gino Giant was even better than I remember. I had a mixed basket of onion rings and fries with it and even tho the old Gino's never had onion rings, they were delicious!  All four of us said they were the best onion rings we ever tasted! We all had shakes with our meal and I chose a strawberry milk shake with M&Ms mixed it. Again, it was excellent! We got a bucket of the chicken tenders to take home and had them today. They were fantastic! Fives stars for the food!

   Finally, I shared the story that it was more or less a "homecoming" for me since I worked for Gino's back in the day. I must say the employees I met along with the two managers were very kind about that. Considering the fact that my time working for Gino's was LONG before most of them were born, I thought it was quite nice of them!