Welcome to the... 

                Gino's Hamburgers Tribute Website

.              ..A tribute to a fondly remembered former East Coast regional fast food chain. 

                                                                  By John S. Flack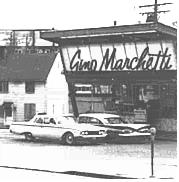 Courtesy:Rick Smith  

  An early Gino's in Towson, MD.  

Explore the Gino's Hamburgers Website...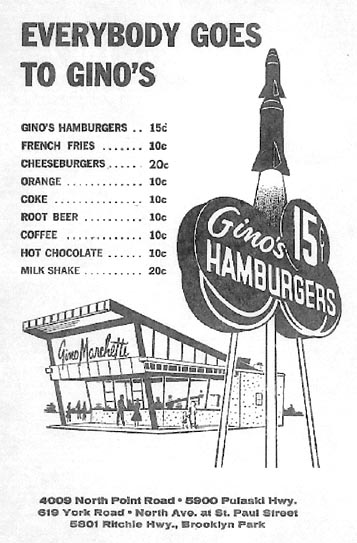 About the Gino's Hamburgers Tribute page...

  I created this site as a historical tribute to the former Gino's Hamburger chain for the enjoyment of former customers, employees and anyone interested in fast food history. As an "unoficial" hobby site it is not connected with Mariott, Inc. 

   Images and items on this website are either from visitors to the site - in which case this source is noted, articles from my personal collection or from items which I purchased on eBay. I gain no monetary profit from the operation of this site, in fact I pay for the use of the server - but the price is well worth being able to help preserve the history of Gino's Hamburgers.

  Thanks for visiting, and I hope your visit here is enjoyable. Please e-mail me with your comments.

Site Founded: 04-28-2000

                  Gino's Hamburgers on FaceBook...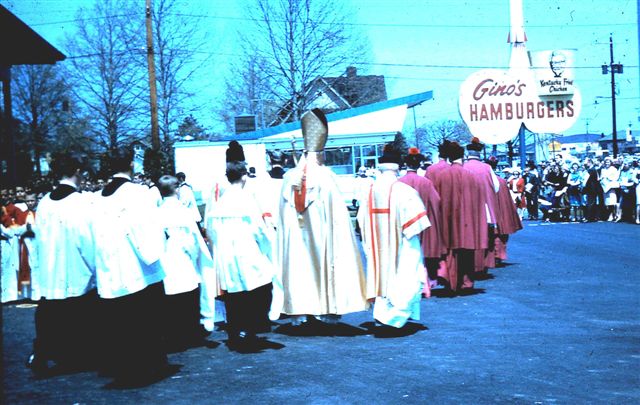 A photo contribution to the site from Bob McCann proves "Everybody Did Go To Gino's"!

Bob writes...

  I took the greatest photo of a Gino's scene years ago in New Castle, DE.  The restaurant was right next to a Catholic church.  The new church was being consecrated by the bishop and all the diocesan priests.  When I snapped a picture of the procession, I caught the Gino's sign in the background.  The photo looks as though the procession is headed right for Gino's.  "Everybody goes to Gino's." It's really funny.  I just got the 35mm. slide converted to digital.  It would look great on your Gino's Memorial site.  

   It sure does look great! Thanks Bob!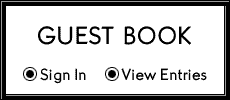 Please take a moment and sign the Guest Book...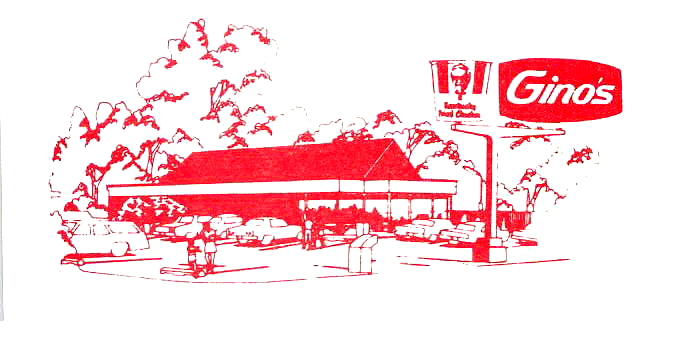 Newspaper advertisement for promotion at the Gino's in Cherry Hill, NJ in August 1961.

This page was last updated: October 14, 2020
       Gino Marchetti Dies at 93

   Gino Marchetti, Pro Football Hall of Famer and co-founder of the Gino's Hamburger chain, died on the evening of April 30, 2019 in Paoli, Pa. There has been a discrepancy with his age with some sources giving his age as 92, others 93, but most sources give 93 as his age.

  These photos, taken in 1963, offer a rare look at an early Gino's with outdoor ordering.

This location was in Morton, PA. They were provided to the site by
Nancy Clendaniel
.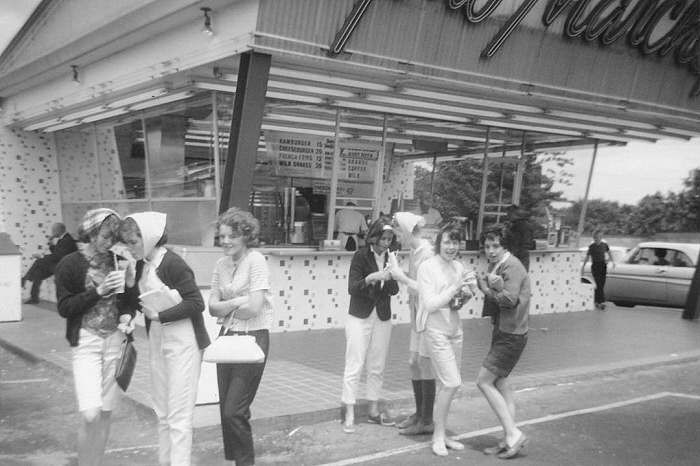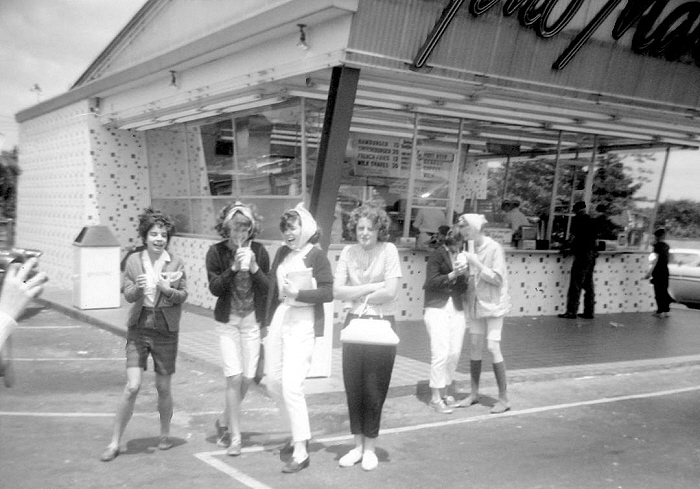 Louis C. Fischer, one of the co-founders of the Gino's Hamburger chain, died on June 27, 2019 at age 89. Lou also served as Chairman and CEO for Gino's, along with other corporate and non-profit boards.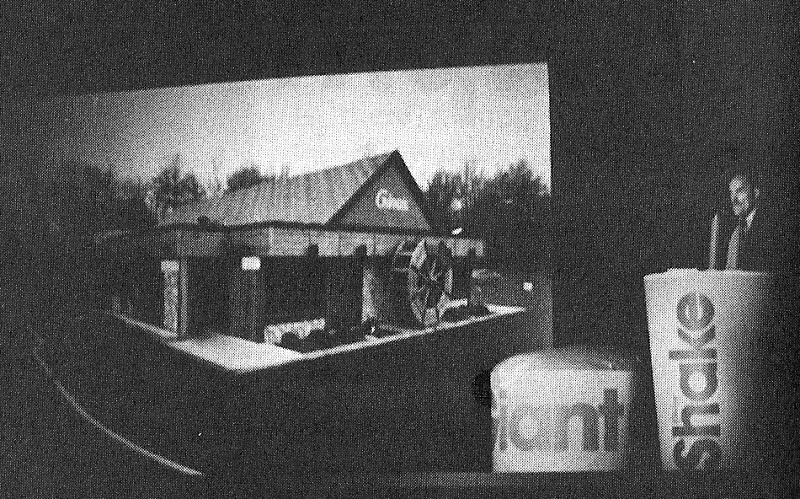 Lou Fischer narrating a slide show about Gino's restaurant remodels at a 1979 Manager's Meting at Cherry Hill Inn in New Jersey. He is standing behind an oversized drink cup that was used as the podium for the meeting, with the microphone inside the giant straw.